I know what you are thinking… wasn't Joy nominated for this award already and also, wasn't it Pinkie who nominated Joy last time?
You are right on both accounts and it's amazing (and curious) how highly observant you are!
In any case, receiving this award is like the blogging equivalent of wining an Oscar and you never hear an actor complaining about wining more Oscars do you?
(awkwardly adjusts mic)

"Oh geez, more undue recognition of my barely existing talents and efforts… this really sucks! Well I guess I can maybe make room over the mantle for another one but I'm very disappointed (waves finger disparagingly at the camera audience) with the poor judgment of the academy for awarding me this Oscar and there certainly had to be a more deserving nominee! (pounds lectern)…"
That NEVER happens! It's more like this:
"Oh my gosh! They tell you, you've been nominated and you think to yourself it's just nice to be a nominee…  I never actually expected to be up here on stage… (camera pushes in on tears being wiped from her cheek) but now that I am, I don't know what to say… (deep breath) I want to thank my parents! Your support growing up helped me become who I am today! I certainly wouldn't be here if it wasn't for our amazing Director, Susan you rock and your direction got me though those really tough scenes! I definitely have to thank Ted… our producer, you put up with everyone and always new how to solve every problem! And of course I want to thank the entire film crew! Filming Equinox: A Real Neat Bot's Journey to the Stars has truly been the highlight of my career and I am just blessed to be up here on stage right now in front of the academy to accept this award and I'm so looking forward to getting back together with everyone on the film crew this summer to resume shooting Equinox Part II: The Autumnal Black Hole! From the bottom of my heart I love you all! Thank you, so much! Good night and God bless! (wipes tears of life long satisfaction and fulfillment as she clutches her award and exits the stage to the left)"
That… is how you accept an award! 😉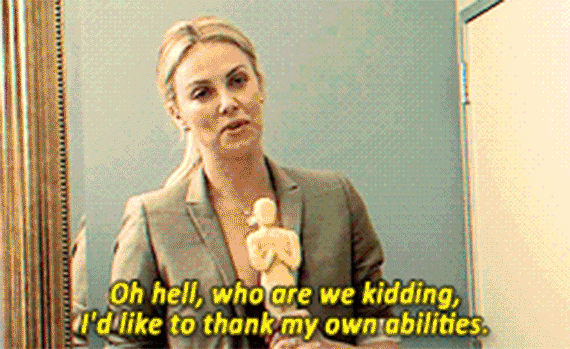 So, rather than waste time asking irrelevant questions like "Oh why me?" or "Am I even worth receiving another Oscar, I mean… Real Neat Blogger?", instead I will take this opportunity to thank Pinkie and the rest of the blogging academy for this wonderful award… also for all the yummy free advertising we both get out of it! 😛
Oh, and before I forget, if you want the wallpaper for the nonexistent film I just accepted an award for…
Here you go (click it, it's prettier when larger):
Now on to the important business!
I want to say up front that my familiarity with anime is worse than inadequate, it's complete crap in most cases and so everything that follows will be woefully misinformed and inaccurate at best due to my almost total ignorance and where my surface deep knowledge lacks I am absolutely going make up for that fact with lots… of bullshit! 🙂
So, I'm ready if you are to launch this soon to be dumpster fire into orbit…
Continue reading "Equinox: A Real Neat Bots Journey To The Stars" →