I tried in vain to get my last case out of my head!
I put down the paper and stared at the rain drops collecting on my window and the lights behind them.
I was just about to close up the agency for the day when the pinkest dame you ever saw walked through my door.
She was truly vibrant!
Which was odd because this classic sifi-noir pulp comic-book mystery is written in black and white! 😉
She told me her name was Pinkie Fuchsia.
Miss Fuchsia told me she had recently inherited her long lost rich aunt's island resort & nightclub for exotic wild pocket monsters… then the chain-letter blogging requests started.
At first she complied with their demands for more information but as their demands grew it became obvious that she needed help.
The cops told her there was nothing they could do, which is when she walked through my door.
The natural solution was for Pinkie to nominate me as the next "hop" in the chain so that my investigation wouldn't arouse suspicion.
My Award / Nomination
I was more than a bit skeptical that the award wasn't just floated around by some partially corrupt marketing department looking to data-mine a free model and pocket some dough off the sins of a few bloggers!
I mean, if these chain awards were diseases most would easily have an "R naught" in the hundreds and should be fairly easy to track by "ping-back" or filtering for posts containing "Mystery Blogger Award" (or whatever the name happens to be) and having the appropriate uh… inappropriate hashed tags.
Maybe they just want to map the spread of information and or establish the web of social connections… I just don't know how deep the lies go!
In any case, Pinkie did some sleuthing on her own and discovered that there are several different versions of the award floating around.
It could just be evolution of a symbol over time or… it could be something more sinister!
If I were phishing for delicious details to fill my database I could use a different award logo image to differentiate different versions or iterations of each campaign to help track which variant propagated through which people and networks and then correlate all that back to their names!
What I mean to say is… this can surely not be that because… well, (allegedly) this chain-letter post was started by someone with the confidence boosting moniker Okoto Enigma!
Now… this could be coincidence and I could simply be seeing things that aren't there but… 'Okoto Enigma' happens to be a mix of Bulgarian and English words which roughly translates to 'The Eye of Enigma' or perhaps less menacingly it should probably be translated colloquially to mean 'Enigma Eye' or 'Mystery Watcher'.
I'll say this… you may be watching us, but just like Homolka (not that one) said, "We are watching you" too!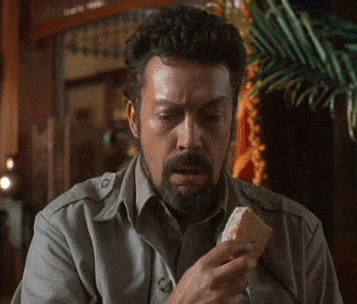 Stop eating my sesame cake!
The Rules
So… there are some rules that come along with this award:
Display the award logo on your blog.
Thank the blogger who nominated you and provide a link to their blog.
Mention the creator of the award and provide a link.
Tell your readers 3 things about yourself.
Answer 5 questions from the nominee.
Nominate 10 – 20 bloggers.
Notify your nominees by leaving a comment on their blog.
Ask your nominees 5 questions of your choice, including 1 weird or funny question.
Share the link to your best post.
Three Things About Me
I'm supposed to tell you three things about myself so here goes…
I'm a parent.
I've experienced chromesthesia.
I am more paranoid than… Black Sabbath singing 'Paranoid' followed by Rockwell's 'Somebody's Watching Me'!
The Questions
With everything that came before us in the past, let's answer some questions!
1. What is your favorite board game/tabletop game.
Well, I mean dominoes is kinda fun… but I have some fond memories of playing these games with friends (in no order):
Settlers of Catan
Eldersign
Last Night on Earth
Star Frontiers
Cards Against Humanity
Gloom
Zombie Dice
2. What is your favorite (anime) companion "creature" or general mascotte. (Examples Happy, Pikachu but also BB8 from Star Wars)
Does BB8 classify as anime? Turns out yes because Star Wars did an anime version! 😛
Would the Spaceship extraterrestrials from the 1987 film *batteries not included count? Nope, no anime version… hmmm… that means Johnny 5 and Bender Rodriguez are out too! 😦
I am aware of the Bender fandom anime but those are not canon and don't count!
It did occur to me that I could "Rotoscope" them in using an anime style.
What is Rotoscoping?
Here's another video and it's pretty thorough but it spends less time covering rotoscoping anime.
With an inflated sense of my artistic abilities I decided to test if I could turn a few of my options into a passable anime and have my cake and eat it too…
I started from the Elon gif I used in my Emote-a-tron post and then Rotoscoped it into two different cartoon versions:
First Rotoscoped Version
Second Rotoscoped Version
Sadly, neither is really close to looking anything like an anime IMHO so decided that even if I had succeed it wouldn't count because I'm not Japanese and my simulated anime style would only be fan art.
With all my attempts to cheat the Kobayashi Maru having failed I return to your question.
I choose Kenshiro from Fist of the North Star as my champion, yes… I know that's manga!
Clearly I mean the anime TV series version!
Because… he seems like he would make a great mascot & bodyguard and need I remind you I am paranoid? 😛
3. What is an overused trope in fiction you still like no matter how often it is used? If you don't have any.. pick the one you mind the least.
It's a cliche at this point but a "Logic Bomb" destroying super computers and AI is probably top of my list.
Here's a more thorough discussion of the topic if you are interested: https://allthetropes.fandom.com/wiki/Logic_Bomb
It includes a fairly comprehensive list of relevant pop culture examples and by virtue of starting with 'A' in English, anime references are top of the list. 😛
Below are a couple of examples I enjoy from the TOS episode I Mudd.
Here you see Spock at his purely logical best deploying a minimalist bunker buster against two androids though sadly this clip doesn't include the result which is their necklaces start wildly beeping and flashing (like androids tend to do) and it's so effective they are completely frozen in place in the face of Spock's mighty logician skills! 😛
In the same episode of TOS (I Mudd) we see a less elegant and more complicated (theatrically drawn out) example though still effective using the "Liars Paradox" logic bomb to figuratively and literally blow the the remaining androids minds!
Now, just in case you are thinking the "smart-bomb" scene in the 1974 John Carpenter film Dark Star includes a "logic bomb", you would be mistaken.
That instance actually involved a conversation on phenomenology and Cartesian doubt which is arguably the more intellectual approach to dealing with rogue AI but as demonstrated, unless you get it just right you are almost always better off with a simple logic bomb!
If anything, the scene is worth a view on the basis that it could save your life if you are ever in a similar situation! 😛
4. Zombie Apocalypse, Alien invasion or A.I. revolting against man which one will happen and whose side will you be on? Doing what?
Why not all three simultaneous (not the chef song)?
Attack of the Robotic Zombie Aliens!!!!!
Look, with your ducks and bad luck and my obscenely colorful paranoia as the well established fact that I'm traveling with Kenshiro… rolling a snake eyes apocalypse seems highly probable!
Of course the DM would have to breakout the expanded rule set and roll tables to handle that epic adventure!
As far as sides go… I tend to think I would definitely be on my side and tangentially humanities side because participating in the destruction or subjugation of my species seems contrary to my best interest.
Beyond that though, I don't think we should build conscious slave AI when artificially intelligent machines are good enough.
If we build a machine that is "alive" then by definition it must be "a person" so it should naturally possess the same inalienable rights and obligations as any other person.
Person or not though… zombie, alien or AI… alien-zombie-ai… no matter the variant I'd let Kenshiro do what he does best and shuffle their domino bones!
I'd probably spend a lot of time looking for a G.E.C.K. or Platinum Chip, solving quests for local NPC settlements and trying to convince all factions to end the fighting.
This question inspired today's featured image and wallpaper:
An alien robot zombie attacking.
5. The weird question, this one had to be at least a bit tricky to answer so this is a TAG question.
Step 1: You have to set up a date for Pinkie, which blogger do you set her up with? (tag the blogger you )
Step 2: Pinkie will set you up for a date in return which blogger would you like to be set up with. (tag the suggestion)
This is going to come off as completely conceited and it totally is… can I tag myself?
My Questions and Nominations
As far as nominations go… anyone who wants to should feel nominated now.
As for questions: "5 questions of your choice, including 1 weird or funny question"
Favorite food?
Favorite TV show?
Favorite time of the day? Why?
What made you decide to self nominate for this award?
Most people don't know that before becoming rich and famous, actors Adam Sandler, Brendan Fraser and Steve Buscemi were all in an obscure and failing band together called 'The Lone Ranges', there is a documentary about it called Airheads. Anyway, after they got out of prison their band broke up and they all started acting. Their only hit single was called 'Degenerated'. The opening lyrics go:
"What's Johnny doing out on a Tuesday night?
Johnny can't read, Johnny can't write.
Kids just don't understand!
Johnny don't care about the world"
So the question is… Why was Johnny out on a Tuesday night and what was he up to?
Best Post
It's subjective at best and even then I don't have any clue. Here's a link to my Topics and Posts page that has most of my post series and although there are a few missing I'm sure most of the good ones are there… so maybe leave a comment with whatever post you think is my best?
And with that, I'm going to call it a day.
---
If you enjoy… whatever this was, I have a Patreon where you can give me as little as $1 a month, $12 a year and you can cancel anytime! 😛
But, as always, if all you can do is Like, Share, Comment and Subscribe… That's cool too! 🙂
Much Love,
~Joy