I know what you are thinking… wasn't Joy nominated for this award already and also, wasn't it Pinkie who nominated Joy last time?
You are right on both accounts and it's amazing (and curious) how highly observant you are!
In any case, receiving this award is like the blogging equivalent of wining an Oscar and you never hear an actor complaining about wining more Oscars do you?
(awkwardly adjusts mic)

"Oh geez, more undue recognition of my barely existing talents and efforts… this really sucks! Well I guess I can maybe make room over the mantle for another one but I'm very disappointed (waves finger disparagingly at the camera audience) with the poor judgment of the academy for awarding me this Oscar and there certainly had to be a more deserving nominee! (pounds lectern)…"
That NEVER happens! It's more like this:
"Oh my gosh! They tell you, you've been nominated and you think to yourself it's just nice to be a nominee…  I never actually expected to be up here on stage… (camera pushes in on tears being wiped from her cheek) but now that I am, I don't know what to say… (deep breath) I want to thank my parents! Your support growing up helped me become who I am today! I certainly wouldn't be here if it wasn't for our amazing Director, Susan you rock and your direction got me though those really tough scenes! I definitely have to thank Ted… our producer, you put up with everyone and always new how to solve every problem! And of course I want to thank the entire film crew! Filming Equinox: A Real Neat Bot's Journey to the Stars has truly been the highlight of my career and I am just blessed to be up here on stage right now in front of the academy to accept this award and I'm so looking forward to getting back together with everyone on the film crew this summer to resume shooting Equinox Part II: The Autumnal Black Hole! From the bottom of my heart I love you all! Thank you, so much! Good night and God bless! (wipes tears of life long satisfaction and fulfillment as she clutches her award and exits the stage to the left)"
That… is how you accept an award! 😉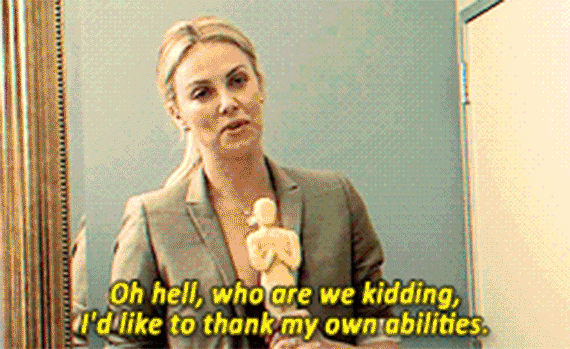 So, rather than waste time asking irrelevant questions like "Oh why me?" or "Am I even worth receiving another Oscar, I mean… Real Neat Blogger?", instead I will take this opportunity to thank Pinkie and the rest of the blogging academy for this wonderful award… also for all the yummy free advertising we both get out of it! 😛
Oh, and before I forget, if you want the wallpaper for the nonexistent film I just accepted an award for…
Here you go (click it, it's prettier when larger):
Now on to the important business!
I want to say up front that my familiarity with anime is worse than inadequate, it's complete crap in most cases and so everything that follows will be woefully misinformed and inaccurate at best due to my almost total ignorance and where my surface deep knowledge lacks I am absolutely going make up for that fact with lots… of bullshit! 🙂
So, I'm ready if you are to launch this soon to be dumpster fire into orbit…
A Real Neat Blog Mark 2
Wining this award comes with many benefits and a few rules:
Display the logo. (done)
Thank the bloggers for the award. (done)
Answer the questions from the one who nominated you. (next on the list)
Nominate 7 to 10 bloggers. (let's be honest and say that won't happen)
Ask them 7 questions. (Hmmm… Should I torture people by asking questions about obscure programming languages like the Shakespeare Programming Language or Brainfuck (yes, that's actually the name of a programming language)?
Since answering the questions is next on the list, here goes:
1. If you could do the fusion dance with any character from anime, who would you fuse with and how would you be called when fused
Anyone else get the subtle feeling that the "fusion dance" is a euphemistic reference?
No shade Toriyama, no shade! 😛
In any case, I would fuse with either the Crescendolls (the entire group) from Daft Punk's Interstella 5555: The 5tory of the 5ecret 5tar 5ystem…
A musical science fiction anime so worth the watch that I'll link to it here:
Exclusive OR, Faye Valentine from probably the best science fiction+western+noir anime out there: Cowboy Beebop
In the first case we'd be called "The Diminuendolls" (Natural-sort-order-ly, I mean Niente) but I guess "The Allegrezzdolls" could work if you don't care about naming things in alphabetical order (or proper spelling), though in either case fusing with an entire band seems like it would take a lot of Ki (pretty sure I don't mean a double entendre) and probably leave me pretty exhausted… so in the second case…
We'd be called L'amore de Alegria (the fused duet, no Troop, NAY… THE EXPERIENCE!)
Someone: "Domine, Veridis quo?"

Someone Else: "To experience L'amore de Alegria!"
Now featuring L'amore de Alegria on the cover of Space Polk's Hoopajoop Beebop Boop:
Full disclosure, Space Polk's Hoopajoop Beebop Boop is partially sponsoring this post but only the unoffensive parts!
So… Yeah… that was super corny, sorry… I'm just Super Saiyan! 😛
2, If you gathered the seven Dragon Balls, what would be your wish?
Exposition: Because of how the Dragon Balls work (and I'm totally convinced that "Dragon Balls" is defiantly not a euphemism) my wish would happen exactly as intended without any distortion, malice or undesired consequences or unintended effects.
So… please dear great simulation server admin, hear my plea and grant me this one game update…
Honestly, I know it sounds like hot n'buttered cheesy popcorn, but given that much power to do so much good I would truly like to believe I would wish for a happier and more peaceful world.
(Joy turns to face the camera audience and smiles)
My wish would almost certainly have to mean improving the lives of all ~8 billion humans now living.
That would definitely mean raising the ~3+ billion people who still live in various levels of poverty to a standard of living that enables them access to clean water (dear logic please look into seawater desalination!), sanitation, nutritious food and healthcare without the threat of violence or coercion, combined with the freedom and opportunity (not the martin rovers… wait that was Spirit, never mind) to participate in shaping the future of our species!
So… if I had to state all of that as just one singular thing to wish for that would provide the most chance to achieve all of the aforementioned…
I would wish for actual working fusion power production because it offers clean, cheep and affordable energy to accomplish those goals without the "unpopular" side effects of carbon/nuclear fallout that isn't a pipe-dream and "just 30 short years away".
"No, für re@lz this time guys… we think we actually might be onto something… we just need a few more decades of $u$₮ain€₫ ฿u₫g€₮aR¥ in¢R€a$€$!".
Side Note: The day that happens, that very minute… I switch from being an Orion's fan to team Project Daedalus!
Or… depending on how apocalyptic the global pandemic gets, I might wish for a cure to the Corona Virus! 😛
3. What would be your Devil Fruit if you had to eat one.
When I was younger I had only heard rumors of Devil Fruit and I wasn't even sure they actually existed but one day… in my mid 20's, I was leisurely attending a "swap meet" (certainly not a euphemism) where I found a few boxed oscilloscope tubes.
My oscilloscope's tube had blown itself (reference above) and since I had a few ฿€££¥ on me I bought a couple boxes and tossed them in my pocket (they were small tubes; okay look innuendos aside it's not the size of your CRTs that matter, it's how you use them!).
Later, when I was home and ready to replace the cathode-ray tube in my CRO, I opened the boxes (my bad for not checking to make sure they weren't cracked in the first place) but stereotypically the first glass tube was cracked and when I opened the second box it was this weird squishy magical mushroom fruit.
I learned that not only was it a Devil Fruit but a very rare type of Logia called a "Logic Devil Fruit" (ロジックデビルフルーツ Rojikkudebirufurūtsu) that grants the eater the ability to transform into pure abstract elemental logic.
Logic is the well balanced scale that carefully measures truth and openly gawks at the naked emperor's structure of intangible reality!
In pure logic form I cannot be harmed except by logic bombs (論理爆弾 Ronribakudan) and all truths and lies reveal themselves to me as opaque as the emperor's new clothes.
This advanced attack form looks like this: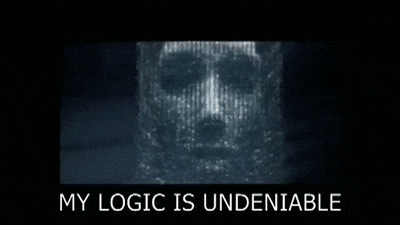 There is a secondary physical form that makes me look a little like Daria Morgendorffer and buffs my sarcastic logition skills granting me (among other things) legendary programmer abilities (伝説的なプログラマーの能力 Densetsu-tekina puroguramā no nōryoku) and strangely enough, sometimes it also adds a hint of cherry blossom flavor to my coffee.
4. If you were Shou(ette) Tucker and you had, a boy/girlfriend/lover, a best friend or a single parent which one would you use for a chimera and would you fuse them with a dog, a chicken or a cow? Also WHY!?
First the why… you all deserve that much at least!
Even though my primary focus has always been muh science and muh alchemy, the simple truth is… I liked it and I was good at it!
As for who I would force to undergo my chimeric experimentation's, why… all of you of course!
I take all comers (surely no puns here), because my past experiences have taught me I have to use a strong human subject otherwise the hybridization will fail.
So I would put you all in a big pit in my basement (sans debauchery but possibly still a little burlesque) though think less Silence of the Lambs "Buffalo Bill" (because who doesn't already have a few skin suites lying around?) and more like Jigsaw meets the Hunger Games.
I would live stream it all online for millions of like minded sick alchemists for the nominally valued $19.99 pay-per-view bouts while I force you all compete like 1990's American Gladiators but without foam padding, leotards or the soundtrack… so maybe more like that TOS episode where Kirk and the Gorn have to fight to the death… yeah, probably like that…  or.. you know… just like the Hunger Games!
In any case, the last one standing earns the pleasure of being my America's Next Top Chimera!
As for what animal I would use, I suppose I could play fetch with a dog but there's always the chance they won't potty train well… and a cow eats way more than a dog and I'm sure my house doesn't have enough room for a free range bovine.
Hmmm…
You know, after thinking it over probably the chicken.
Because… Moana made a dino-descended sidekick look highly plausible and ultimately it's just probably a lot easier to get a chicken through customs!
Maui Customs: That's a Chicken.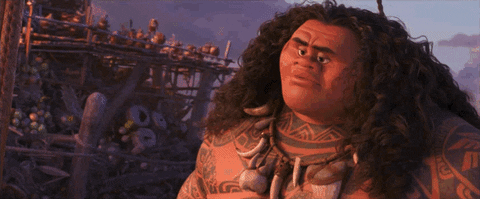 Dr. Joy Shou Lecter: "Oh the chicken… uhhhh, you know… it's like a family member to me and it's my emotional-support dinner! Going to serve fava beans with a nice Chianti."
5. If you got a Geass that could save ONE but only ONE character in Code Geass from death which one would you save?
I never saw Code Geass properly but… I would probably save Euphemia.
6. If you were Maximillion Pegasus, which blogger his/her parents soul would you steal to make them do a collaboration with you?.
That's tough… am I actually Maximillion Pegasus who blogs or Joy cosplaying as such with a Nom de Plume?
The question seems to imply I am actually Maximillion… the thing is, I am not really sure who Maximillion would want to do a collaboration with so I will instead answer as Joymillion Pegasus…
As a "Chaotic Neutral" who leans slightly too "Chaotic Good" for her own good, I would work with my own worst enemy if it's to my benefit to do so, though my motivations are always mine and usually not subject to discussion.
This doesn't get to the "want" though does it?
Not that I'm opposed… but collaboration doesn't tend to enter into my thought processes most of the time because in general it tends to convolute simple things that will otherwise amuse me with undesired obligations upon myself.
Having said that, I will participate in group or collaborative efforts if the circumstances are to my liking… make me an offer I can't refuse!
7.If you were a homunculus in Fullmetal Alchemist, what would be your Sin and how would that relate to your abilities.
I have trouble answering this question because all the fun sins (Lust, Greed, Gluttony, Envy, Sloth, Wrath, Pride) were used already and I'm not sure if I should pick one of Fathers existing homunculi sins or if I should create a new one… and if I create a new one… who's sin list should I pick from?
If I'm picking from the preexisting list, Greed & Sloth seem preferable due to their general lack of hatred toward humanity.
If I'm creating my own based on my personality… I'd probably be a conglomeration of the least flattering aspects of all the sins listed above and I would be called… Despair.
My abilities amount to a "Hopeless Hug" which drains my enemies of the will to fight and renders them despondent and frozen in their tracks unable to attack because they are tormented by visions of their withered future.
My Questions
With all the questions answered, here's my list of new questions:
What is the square root Pi? (Just kidding everyone knows it's 1.77245)
My Real Questions Are:
Coffee, Tea, Vodka or pick a (legal) inhalant?
Favorite season: Summer, Winter, Spring or Fall?
Even if music isn't your thing… What song(s) are currently top of your play list?
Imagine you have the ability (and opportunity) to learn anything… what do you learn?
You are suddenly named are king/queen of the world… what do you do? (other than abdicating your thrown to me 😛 )
What is your favorite or least favorite moment in life so far?
Billionaire Yusaku Maezawa invites you as one of the observers to ride on his 2023 chartered SpaceX Starship trip around the moon (seemingly actually going to happen) and it's it's basically a once in a life time opportunity… do you go? Why/why not?
Bonus (Optional) Question:
One dark night, in the middle of the day, two dead boys got up to play. Back to back they faced each other, drew their swords and shot each other. Two deaf policemen heard the noise, came to rescue two dead boys… and if you don't believe my lie, its true… ask the blind man he saw it too! So… where were you and what is your spurious alibi?
Nominations
The academy mulled this over and unanimously decided to nominate the following real neat bloggers:
For the rest of you, if my questions are moving then feel free to participate too!
---
If you read this far then it means you either like my writing (no judgment on your poor taste in reading materials) or you are stalking me… in either case, consider supporting my content through Patreon for as little as $1 a month, $12 a year.
But, as always, if all you can do is Like, Share, Comment and Subscribe… That's cool too! 🙂
Much Love,
~Joy